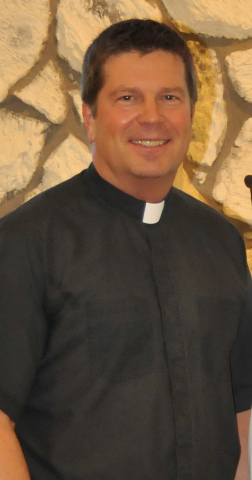 Rev. Randall Bell graduated from Concordia Theological Seminary in Fort Wayne, Indiana in 1986. His first call was to St. Paul's Lutheran Church in Bertrand, Nebraska. He has also served as the pastor of Christ Lutheran Church in Woodburn, Indiana and St. Paul's Lutheran Church in Latimer, Iowa. He has been serving Christ Lutheran Church in Augusta, Misssouri since 2001.
In 2006, Pastor Bell had the privilege of traveling to Africa, spending two weeks teaching at the Lutheran Seminary in Yambio, Sudan. He also had the opportunity to work at different times with the Rev. Dr. Wallace Schulz in connection with the Good News magazine, and has also written for the Higher Things magazine.

Pastor Bell and Julie (Kurtz) were married in August, 1984. They are blessed with two children: Sarah and Brian. Brian and Julia (Flom) were married in January 2014. They are blessed with two sons, Levi and Zayden. Sarah married Dustin Struble in August 2020. They are blessed with a son, Felix.